| | |
| --- | --- |
| MUNKYDUST: | BEST OF 1998-1998 |
THE CD IS NOW AVAILABLE!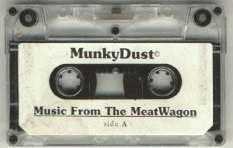 Music from the Meatwagon:

Songs: Meatwagon, Unconscious, Faked Hitting Keiko, Ice Cream, Gotta Smile, Super Cool #1, Jenny (... not included on tapes made after 1st week of production)

Recorded April 1998 at Sub-Space Studios

The Sentimental Album

Songs: Goodbye, Parking Lot, Soft Rock Song, My Pen, Brady's Secret Girlfriend.

Recorded October 1998 at Allusion Studios

(Previously unreleased)

BOTH COMBINED TO MAKE ONE CD!

So what the heck is up with this crap?
Both tapes will be combined, remixed and thrown onto a cd with little to no approval from the other band members... Just kidding. MunkyDust's motives were to make the cd all together as a band, but there wasn't enough time. So instead of waiting 2 years, you can now order the cd from this very web page. ORDER FORM SOON TO COME! If you can't wait, email Matt K at mattk311@hotmail.com and we can arrange to have a money order set up and the cd sent ASAP.
F.A.Q. (Frequently Asked Questions):

I already own Music from the Meatwagon, why should I buy this?
Because Music from the Meatwagon was recorded onto tape, and also mixed in the studio in under an hour(most mixing processes take over 3 hours), the quality isn't as good as it will be on the new cd. Also, don't you want to hear the Sentimental Album?

I have a rash... do you know of anything that could cure it?
Yes, buy the new MunkyDust cd, Best of:1998-1998

When will the cd be available?
THE CD IS NOW AVAILABLE BY CONTACTING MATT K.
THE CD IS ONLY 10 DOLLARS!