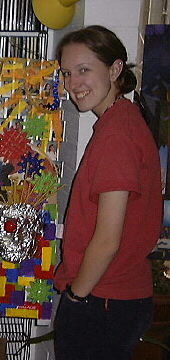 Full name: Erikka Jean Miller
Email: rmiller@theriver.com
Nicknames: Sh*thead, Ike, Sweetness, Erikka-jean
Date of Birth: February 19, 1983
Parents: Ralph and Sue
Siblings: Hayley (12)
Place you live or have lived: Greene, NY; Binghamton, NY; Mescal, AZ
School: Sabino High School
Pets: I have too many to name. 13 or so dogs, 4 emus, 4 birds, 3 cats, 2
horses.
Job: I am a professional lazy-ass.
Hobbies: learning bass guitar, writing poetry, being online, and anything
that has to do with music...listening to it, composing it...dancing!
Best Advice: Tell people how you feel about them today, just in case there
is no tomorrow.
Words or phrases you use too much: What the crap? I dont know. Oh well.
Maybe. You smell bad at that.
Non sport game in which you excel: nintendo 64 stuff and crazy 8's (a card
game)
Non sport game you enjoy but don't excel at: practical jokes. I guess you
say its sort of a game but I suck at it cuz I feel too guilty to lie to
people.
Dream car: I want a porsche boxster, but I drive a '95 camaro.
Coolest experience: Going anywhere with Rachel and meeting Adam
Scariest thing you've ever done: Went somewhere with Katie McKenzie
Fave thing to do in summer: sit on my butt and enjoy pigging out.
Fave thing to do in the winter: ummm...wear sweaters or other long clothes
of sorts.
Character traits I look for in a guy/girl: someone who his funny and I dont
have to explain my jokes to, honest, trustworthy, sincere, sensitive, nice.
Special skills or talents: Ummm...I can make a clover with my tongue, I can
roll my stomach like a wave, anything that requires flexibility (no
perverted jokes) and I can type very very fast. oh yeah...I can speak the
"B language"
What I want to be\do: journalist
Fave color: green
Fave food: anything italian...or tuna noodle casserole
Least fave food: ummmm stuff like liver I guess.
Fave vacation: Ive never been anywhere besides AZ, NY and DisneyLand. I
think I will choose NY.
Fave Subject: Newspaper or English
Fave Word: gestapo
Fav sport: baseball
Other sports: I can play basketball ok.
Least Fav Sport: running of any sort.
Fav movie: Ferris Buellers Day Off, The Breakfast Club, Labrynth, Contanct,
Waterboy, Space Balls.
Fav music group/singer: MunkyDust(of course), Pearl Jam, Marilyn Manson,
Silverchair, The Beatles, Queen and a whole lot more.
Fav. Animal: Hyacinth Macaw
Least fav animal: the ones in my house
Fave t.v. shows: Friends, that 70's show
Fave day: Thursday
Fave month: February or March
Fav holiday: St pattys or V-day
Fave part of newspaper: the ads on Sundays
Fav things to wear: my Huachuca City Mustangs Shirt. Anything that looks
like it required nothing to put together.
The thing that irritates me the most: People who I have to explain my jokes
to and never make any of their own. Liars.